Candles
Filter Candles
WHAT IS A FILTER CANDLE?

The ceramic of a filter candle is cast in such a way that it has one domed closed end. The other end of the ceramic is open. This open end is closed off with a food grade plastic mount, which enables the candle to fit into a filter housing. Water passes from the outside of the candle to the inside, leaving particles of dirt, bacteria, etc. on the outside of the ceramic. The filtered water then passes out of the candle through the mount.

There are 2 standard types of mount (long and short). The length of mount required is determined by the type of housing into which it is to be fitted. The short mount is for undersink/countertop systems and the long mount is used in portable/gravity systems.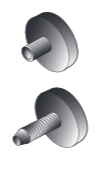 Both long and short terminate in a ¼ inch BSP male thread.
All FICL candles are available in two standard lengths:
7 inches (178mm) or 10 inches (254mm)